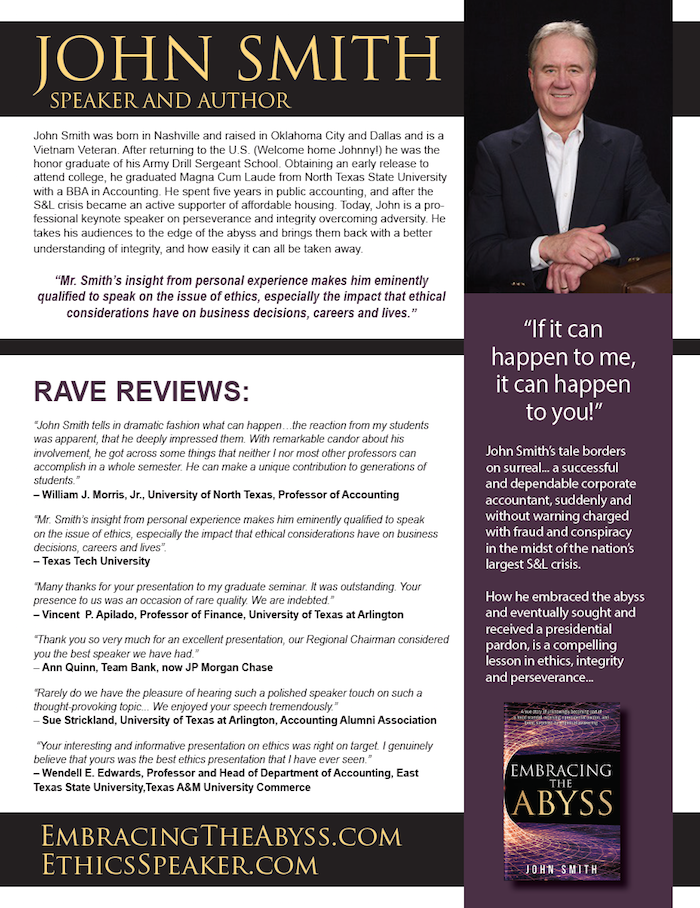 Notable Outcomes
Those who attend will gain a new perspective on integrity based leadership; learning that there is a navigable road to consciousness and that the combination of perseverance and integrity produce unstoppable results in making right-minded decisions in careers and personal lives.  Expectations of transformation from his presentations include:
Creating a self-correcting culture of integrity supporting inspired performance
Increasing personal responsibility and ethically courageous action
Developing a sense of meaning & the desire to challenge for success
Increasing personal responsibility and ethically courageous action
Creating confidence, decisiveness and a rational outlook for success
Improving critical & creative thinking, avoiding negative surprises
Overcoming Adversity
John's story of perseverance and integrity is for all types and sizes of audiences from keynotes, to seminars, to conventions.  His personal message of overcoming adversity is sought by corporations, government agencies, universities, colleges and professional associations. John is a professional speaker, who will help you keep and preserve your dignity.
Presentations
John's narrative creates a focus for audiences on the challenges to integrity. Guiding the audience through a world of deception, where denial becomes a never ending necessity in a survival pack — he carefully takes listeners to the abyss for a personal examination of pretense and denial.  His personal experience of Embracing The Abyss reveals unknown strengths available to us all; consciousness and awareness resulting in a greater trust and genuine teamwork.
The ability to stand in truth, to persevere, to encourage and motivate others has always resided in each and every one of us. John's presentation articulates how overcoming the odds and utilizing integrity and perseverance for purposeful leadership results in sincere improvement and betterment for all.
For an inspiring presentation of overcoming staggering odds by standing in truth, and learning from it a meaningful understanding of the power of perseverance and integrity please email info@searchingforintegrity.com
Perseverance and Integrity Overcoming Adversity
John Smith is a professional speaker whose readiness lies in sharing his gripping story with all types and sizes of audiences. He delivers on awareness, allowing a deeper understanding of expectations and the consequences of ethical and unethical behavior. His thought provoking presentation includes his presidential pardon, having awareness and overcoming adversity.
John is the author of "Embracing the Abyss": a true story of unknowingly becoming part of a fraud scandal, receiving a presidential pardon, and being surprised by a spiritual awakening.
He has been recognized in the Wall Street Journal, the New York Times, the Dallas Morning News, the Fort Worth Star-Telegram and  television stations in the Dallas-Fort Worth area.
Don't miss (Un) Ethical Practices in Business and the Impact of Ethical Decisions On Your Career and Your Life